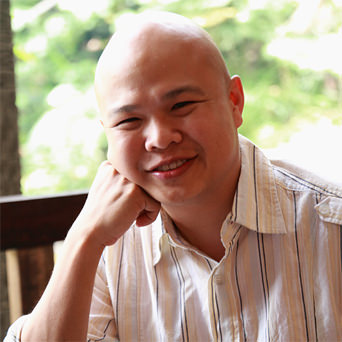 Jeremy Chin is a Malaysian-born author best known for his book,
FUEL
, a love story centered around the sport of running.
FUEL has received astounding reviews, from Finland to India to Africa. It has been read by coaches, ultrarunners and Olympians, and has been marked as one of the most moving running stories ever penned.
To date it has been featured in numerous newspapers and magazines, and also on BreakThru Radio in New York.

EARLY LIFE AND ACADEMIA
Jeremy Chin was born on Dec 18, 1975 in Petaling Jaya, a suburb outside Malaysia's capital. He spent most of his childhood and teenaage years close to his birthplace, and attended public school in the area. As a young boy he played chess competitively, and at one point rose to the national level. He retired from competition at fifteen, his interest eclipsed by other life passions; football, tennis and photography.
In high school, Jeremy Chin failed his final Malay language paper, a mandatory subject to graduate. He retook the paper and passed. In his early college years, Chin took a keen interest to the socialist model and was known on campus as the young Marxist. In May of 1998, Chin graduated with a Bachelor of Journalism from the University of Missouri-Columbia, one of the world's most prestigious journalism schools. His life took quite a different path afterwards, when he moved west with a friend to California.
CAREER
Jeremy Chin, who settled in San Diego for a year, took on many odd jobs. He part-timed as a designer at a local ad agency, worked as a telemarketer selling tax software, and offered computer classes to  the elderly. But it wasn't enough to pay the bills.
In April of 1999, Chin moved to Los Angeles to work as a web designer. He developed e-commerce websites for the largest studios in Hollywood and built web portals for numerous Fortune 500 clients. Three years into the job, he discovered a new passion and delved into the world of computer programming.
Chin moved to London in February of 2005 and remained there for two years. He worked as a web programmer, first at a dot com in Chelsea, and then at a mid-sized advertising agency in central London. Chin returned to Malaysia after his stint in London, and assumed a position at an online marketing agency, as their Creative Director. He relinquished his position two years later to write FUEL.
AFFILIATIONS
Jeremy Chin is linked to a number of organizations. In college he was a member of the Advertising Association of Missouri, the Bahai Society and the Chess Club. Whilst living in Los Angeles, he volunteered at Free Arts for Abused Children, and was a Big Brother for the
Big Brother Big Sister Program
of Los Angeles. Chin is a member of
Mensa
, and teaches Creative Thinking and Writing at
StART Society
, an art center for underprivileged children. Each year, Be A Miracle For Someone Else, a charity program affiliated to his book, donates 100 percent of the book's November and December profits to the
Mother Teresa Children's Foundation
.